Millions of people in the US drive cars daily—and car ownership is on the rise. But cars naturally break down over time. To save a few bucks, many drivers look for aftermarket parts to keep their trucks, motorcycles, and vehicles in tip-top shape.
An aftermarket part is any automobile part designed for use in a vehicle after purchase. Aftermarket parts range from performance-enhancing equipment to fun aesthetic upgrades. Whether you're a brick-and-mortar retailer or primarily eCommerce, it's important to stay updated on the latest trends in aftermarket parts.
Attending automotive trade shows is one of the best ways to stay informed, network with other sellers, and get your business out there. This guide covers the top five automotive trade shows for boosting your knowledge and experience as an aftermarket parts seller.
The Best Automotive Trade Shows for Aftermarket Resellers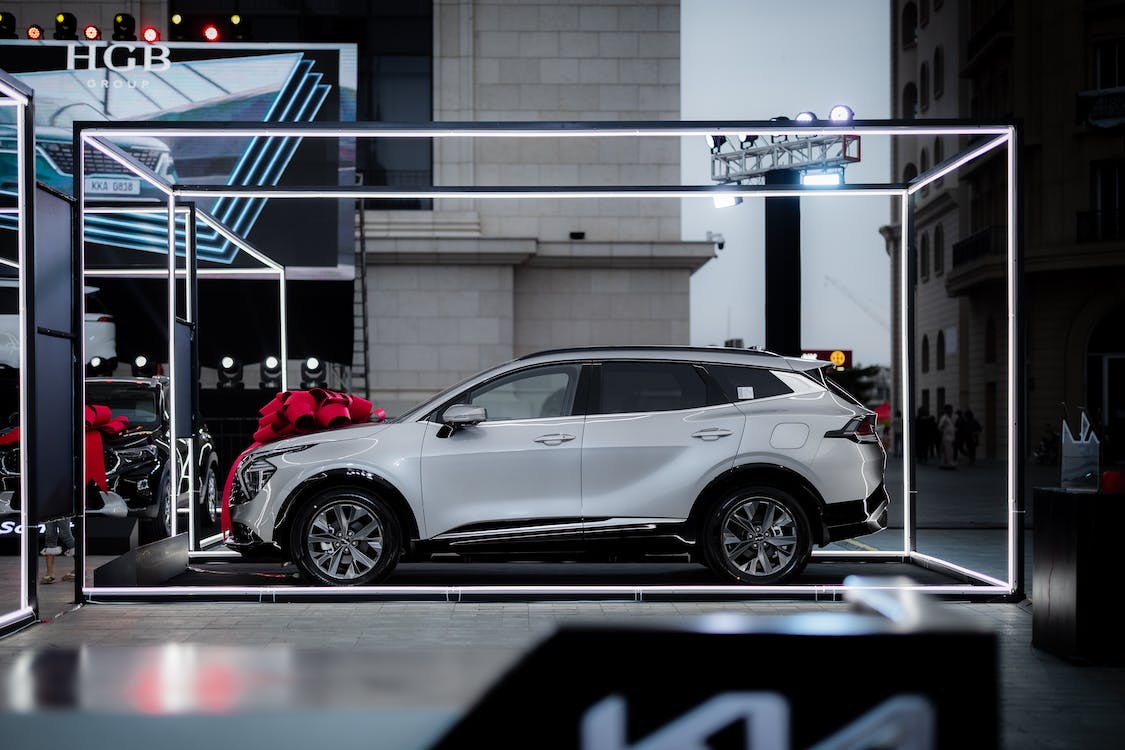 There's a lot of opportunity for aftermarket sellers, whether you sell via eCommerce or a brick-and-mortar shop. The trick is knowing how to scale your business.
One of the best ways to boost your visibility, learn about the industry, and contact other sellers is to attend automotive trade shows. Add these five trade shows to your calendar this year to boost your aftermarket auto parts business.
1. SEMA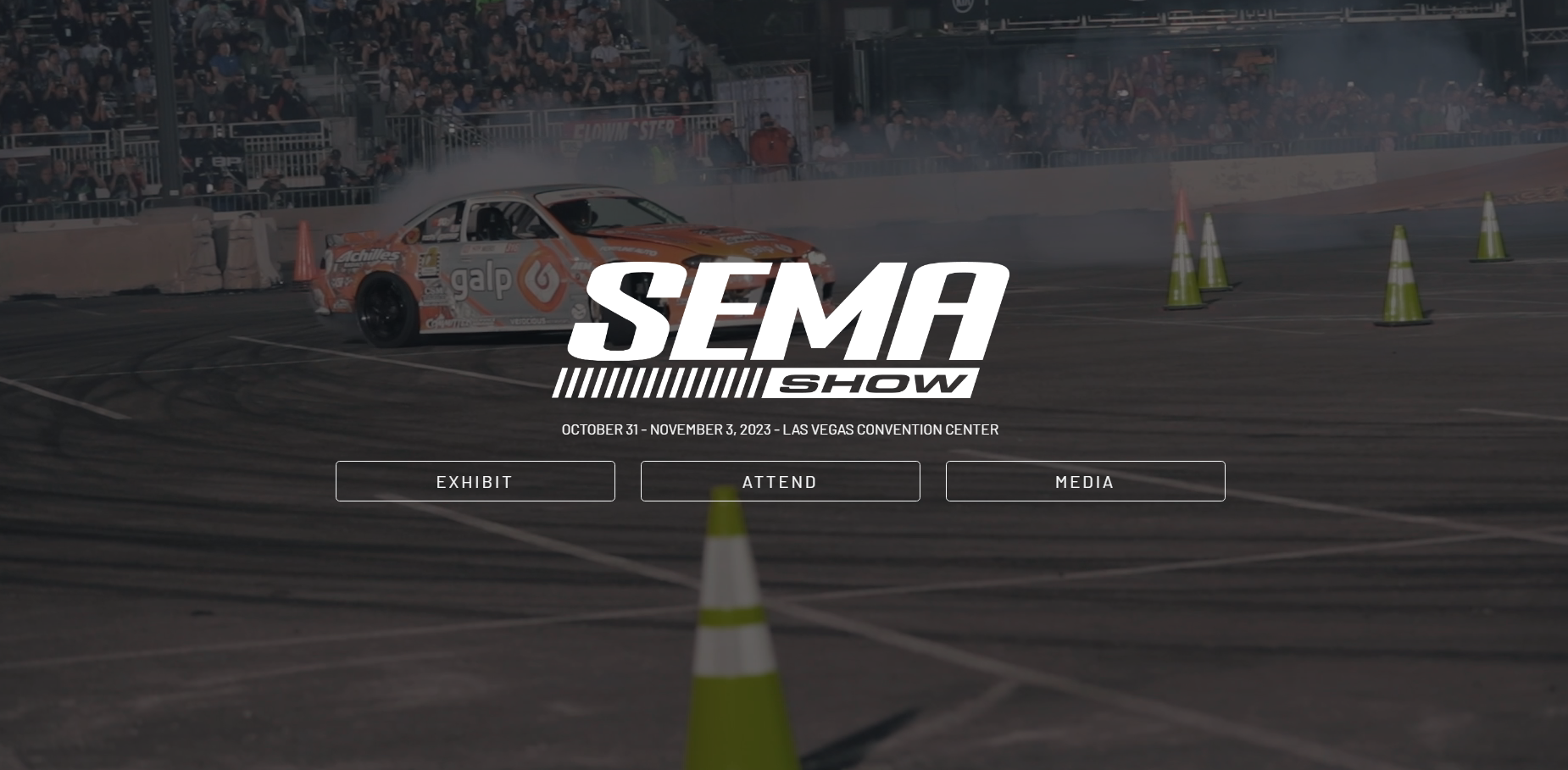 Dates: October 31 - November 3, 2023
Location: Las Vegas Convention Center, Las Vegas, Nevada
Price: $40 - $120
The Specialty Equipment Market Association (SEMA) has been around since 1963. In 1965, SEMA held what would become its annual trade-only event.
Today, the SEMA trade show takes up over 2.2 million square feet of space at the convention center and surrounding areas of Las Vegas, showcasing well over 3,000 products and 1,500 vehicles. Over 160,000 people converge on the city during this four-day event, which makes it one of the largest aftermarket parts conferences in the world.
The SEMA show is specifically for professionals in the automotive aftermarket parts industry, so if you want to learn from the best of the best, this is the best place to learn about your trade. The event features:
Hands-on workshops
Aftermarket part trends
Manufacturing support services
Upcoming legislation
Discounts
Networking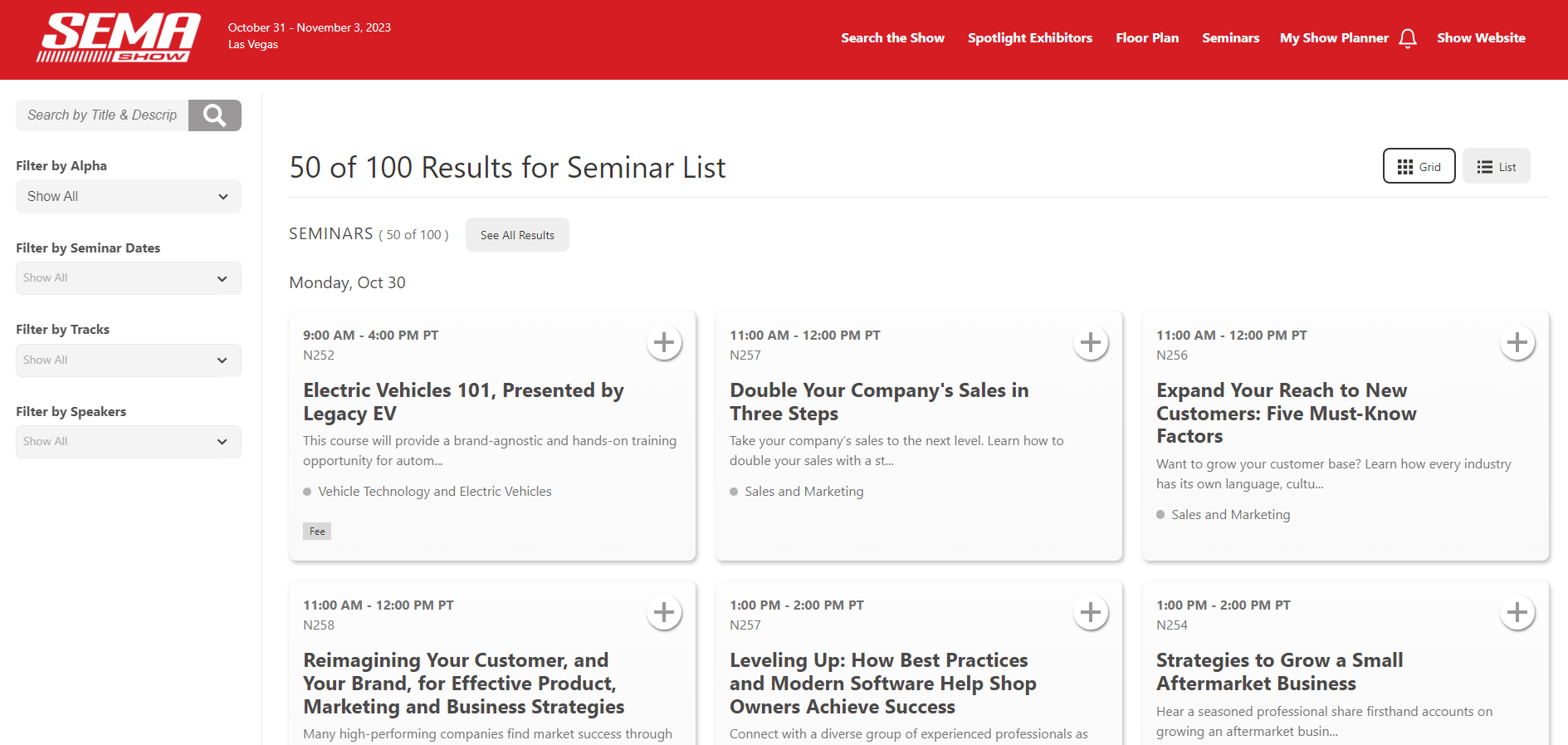 At SEMA, you'll connect with aftermarket part manufacturers, chat with exhibitors, and meet other attendees. Don't miss out on SEMA Cruise, a parade of over 1,000 vehicles designed to inspire your next product launch.
It doesn't hurt that the conference also brings in big musical acts. The 2023 conference promises performances by Incubus, Imagine Dragons, Ludacris, and The Struts, so it's truly an awesome event to witness.
2. PRI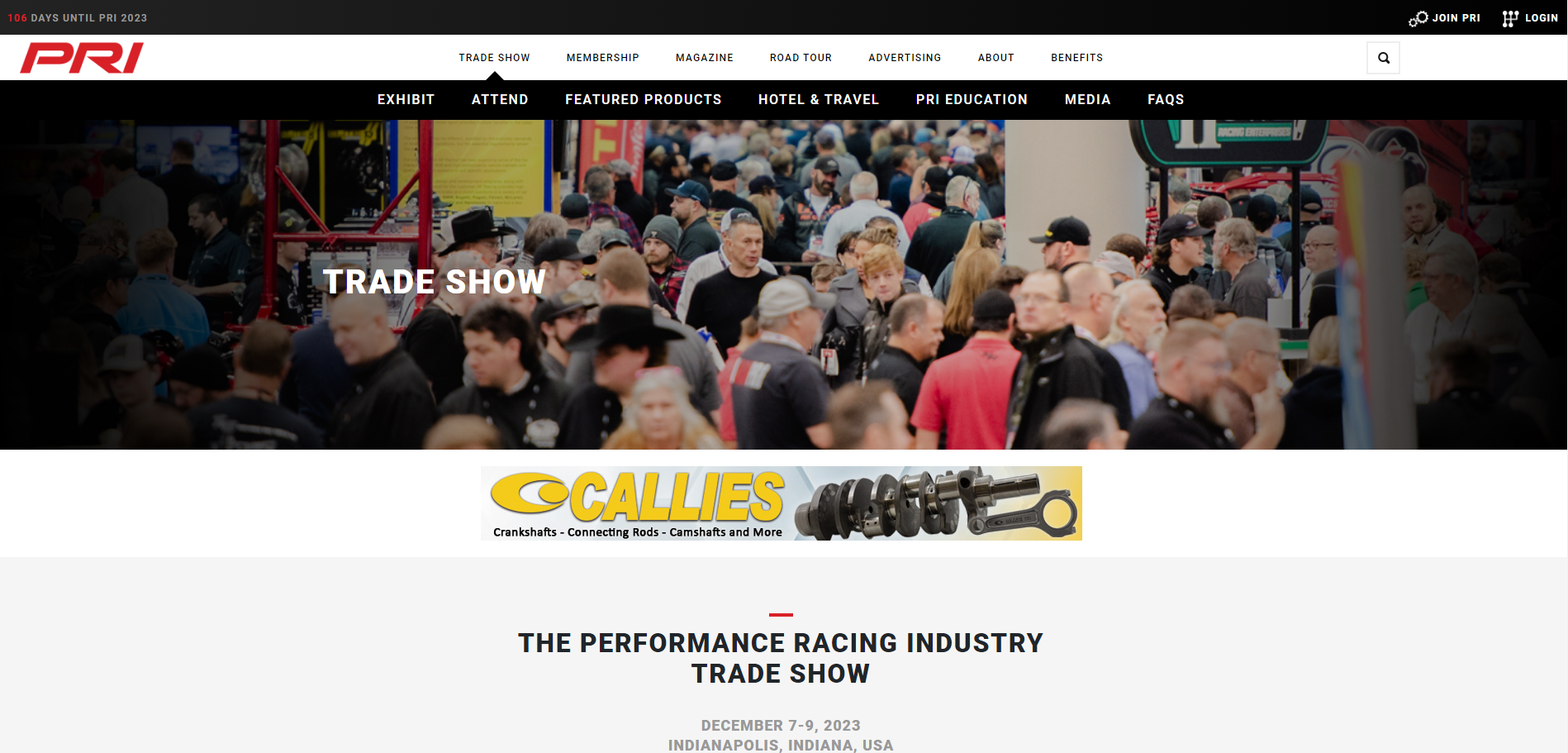 Dates: December 7 - 9, 2023
Location: Indianapolis, Indiana
Price: TBD
The Performance Racing Industry Trade Show is an aftermarket parts trade show for folks who specialize in racing and motorsports. It's the best place to learn about performance-focused products and trends for the aftermarket parts industry. If you sell parts for sports vehicles, karts, or stock cars, PRI is one of the best trade shows in the world to learn about upcoming trends.
PRI's trade shows have over 1,000 exhibits, taking up over 750,000 square feet of space. The event draws attendees from all 50 states and 70 countries, so you're sure to meet new people at PRI.
PRI is a great place to network with manufacturers and other retailers, although its workshops and presentations are also valuable. Some of this year's presentations will touch on topics like:
Street racing
Content creation for aftermarket parts retailers
Choosing the right products for your audience
How to win in a tough economy
Electric vehicle performance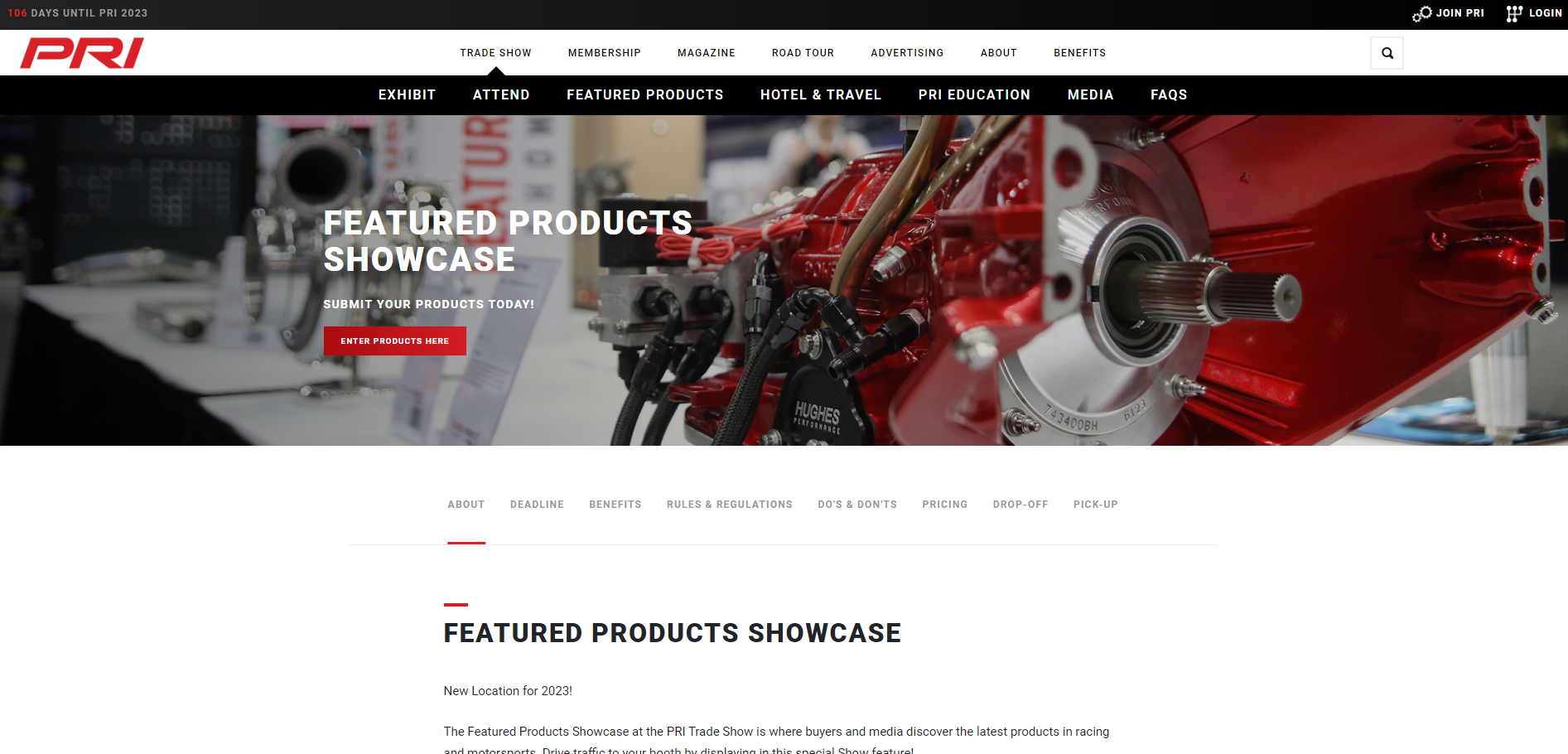 If you're rolling out a new product, apply for the Featured Products Showcase for this year's event. If selected, your product will be in front of thousands of buyers, media reps, and social media influencers.
3. AAPEX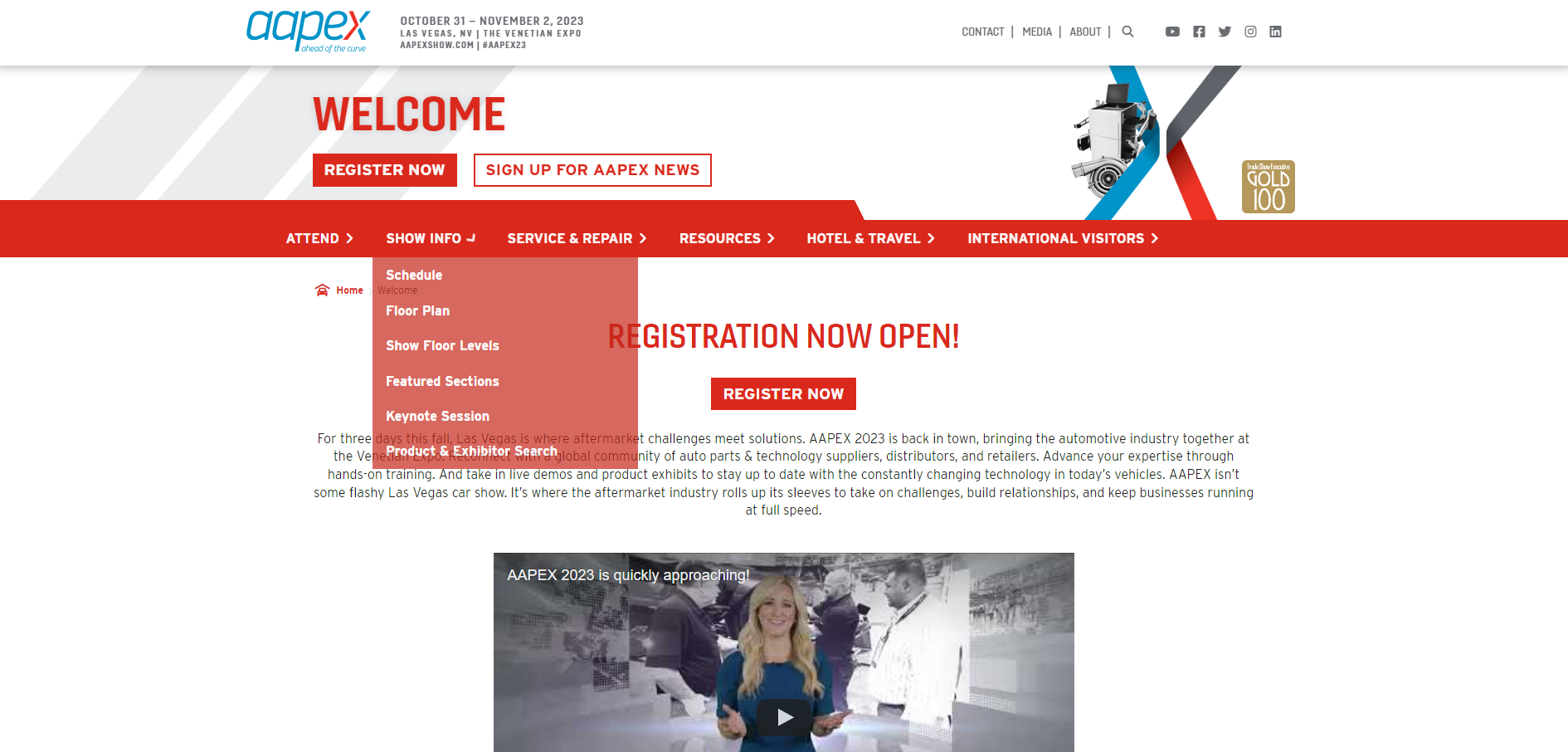 Dates: October 31 - November 2, 2023
Location: Venetian Expo, Las Vegas, Nevada
Price: $40 - $200
The Automotive Aftermarket Expo (AAPEX) coincides with this year's SEMA conference in Las Vegas at the beginning of November. A global community of suppliers, distributors, and retailers gather at AAPEX to talk shop and receive hands-on training on all aspects of the aftermarket parts industry.
At the AAPEX automotive tradeshow, you'll be able to:
See live demos and a large product exhibition hall
Build relationships with industry leaders through networking events
Search for products and exhibitors
You'll also have the opportunity to attend a variety of presentations and informational events touching on topics like:
Profitability
Customer experience
Hiring quality employees
Dealing with difficult customers
EV repairs
As you can see, AAPEX focuses on the aftermarket parts and the ins and outs of running a small b business. This is the trade show for you if you want guidance on industry trends and tips for running a better business.
4. Texas Auto Body Trade Show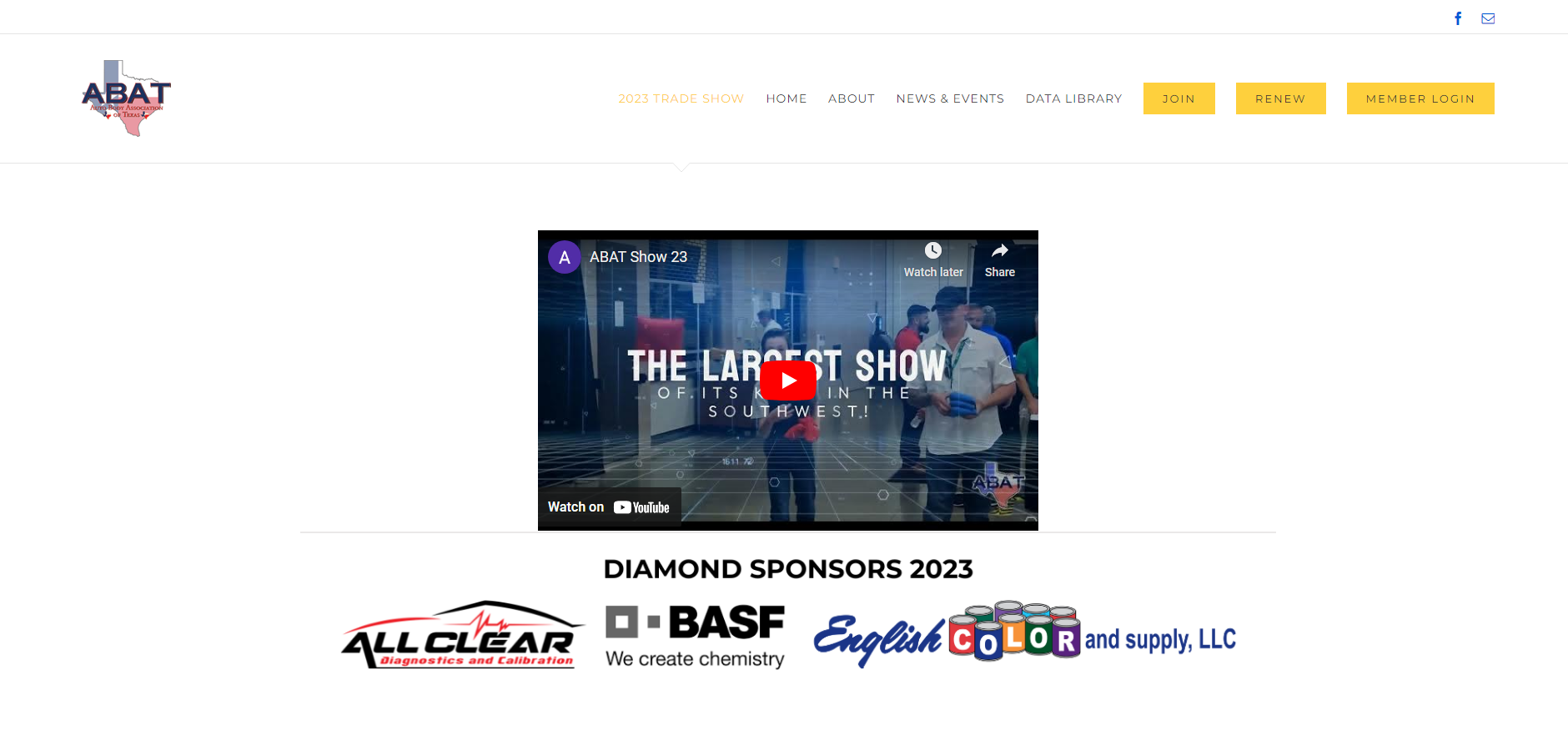 Dates: August 25 - 26, 2023
Location: Irving Convention Center, Irving, TX
Price: N/A
The Auto Body Association of Texas (ABAT) holds an annual two-day Texas Auto Body Trade Show. It isn't as large as car shows like SEMA or AAPEX, but TABTS is a big draw for aftermarket automobile parts sellers in the Southwest region.
It isn't tailored solely to the needs of aftermarket parts. Still, if you're in the automotive repair industry, this could be a good networking opportunity to talk shop with other auto professionals. TABTS events include:
Celebrity meet-and-greets. This year's guest is Javier "Shorty" Ponce of MotorTrend TV
A car show
Painting, estimating, and body tech competitions
Live demos by exhibitors
TABTS takes a different approach to seminars. If you want full access to seminars for both days, the cost is $299. Or, if you're only interested in one seminar, you can pay $49 per session. This year's collection of seminars features topics like:
Attracting talent
EV repairs
Repair planning
Upcoming legislation
You need to be a member of ABAT to attend TABTS. Membership fees start at $500 for a single member.
5. Detroit Auto Show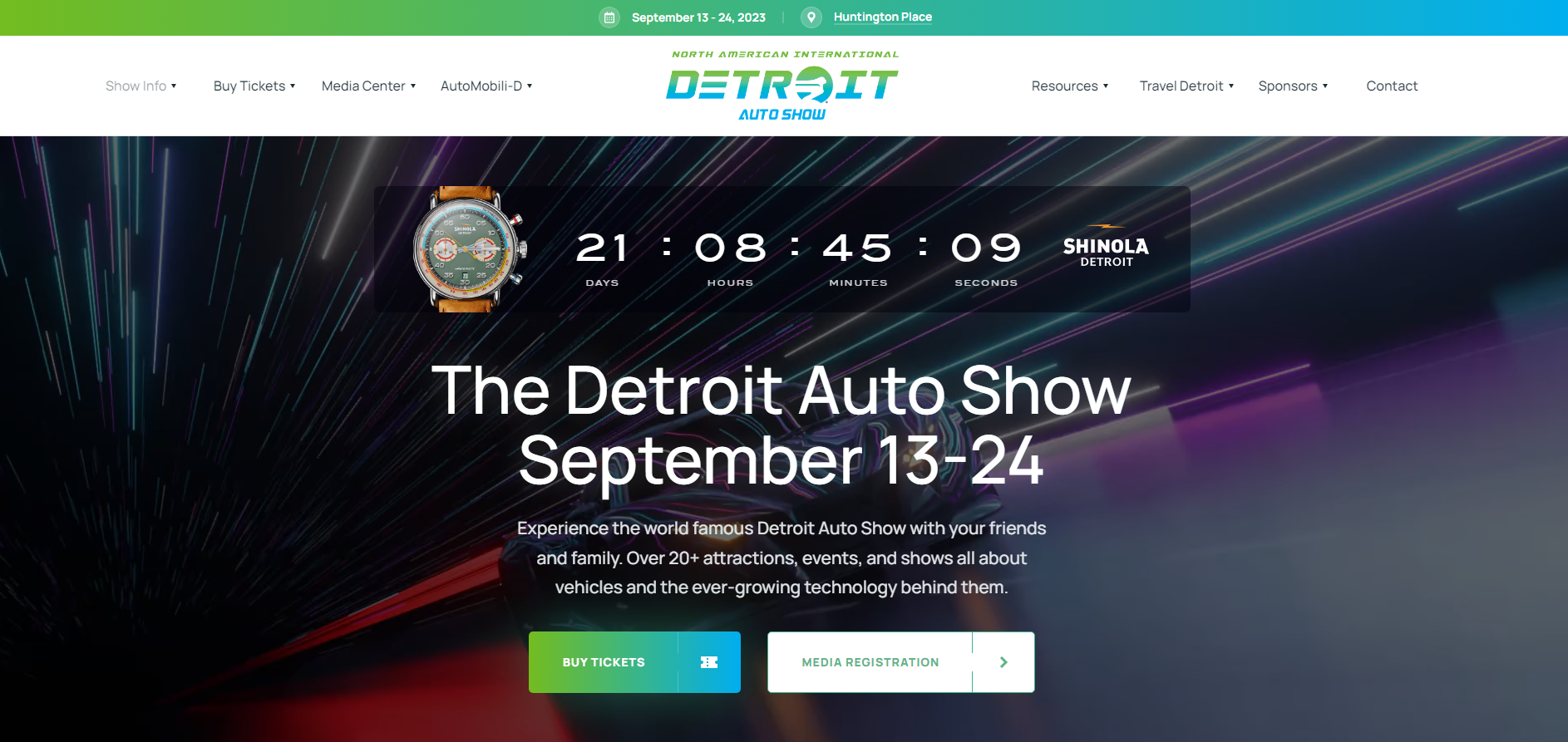 Dates: September 13 - 24, 2023
Location: Detroit, Michigan
Price: $20 - $700
Unlike the other shows on this list, the Detroit Auto Show is open to both auto parts retailers and the public every September. It isn't specifically for aftermarket parts, but the Detroit Auto Show's Technology Day presentations are worth attending. You'll discover the latest vehicle technology that could have a big impact on the products you sell, so it's worth attending to see what tech is in the pipeline.
It's more niche, but if you sell products related to vehicle mobility, Detroit Auto Show's Mobility Global Forum is a must-see. This is a two-day symposium that showcases topics like:
Electric vehicle adoption
Connected vehicle technologies
Battery tech advancements
AI for the automobile industry
Talent retention
How Does Aftermarket Parts Retailing Work?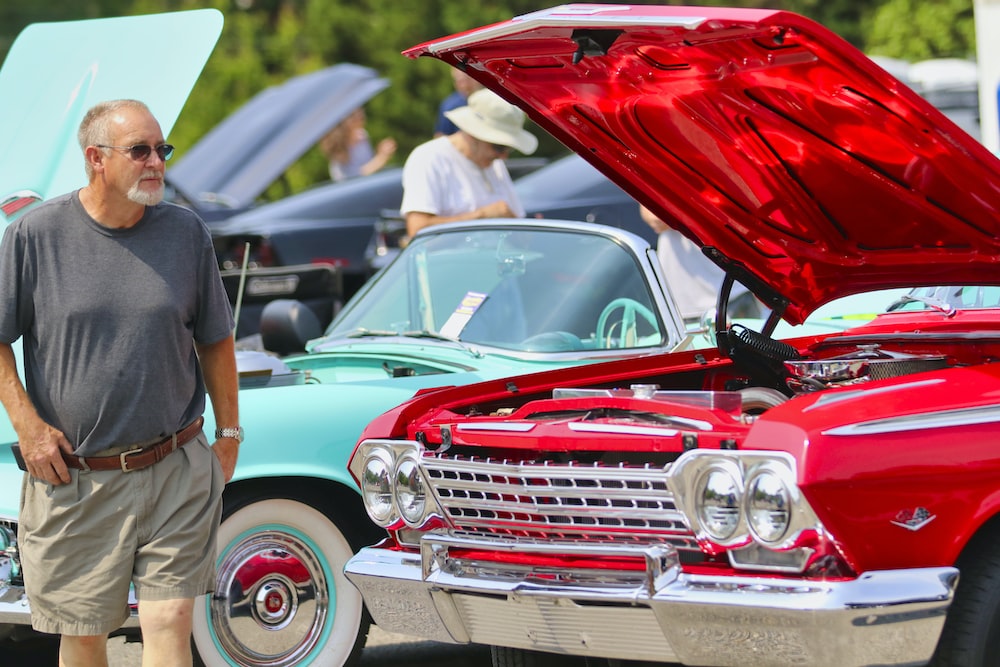 Aftermarket parts are any automotive parts made after the manufacturer creates the vehicle. The upside to selling aftermarket parts is that shoppers get more variety shopping with you over a manufacturer.
It doesn't hurt that aftermarket parts are usually more affordable, so bargain-hunting car owners will likely seek out your products to save on pricey repairs or upgrades.
Depending on your specialty, shoppers might buy different aftermarket auto parts from your shop.
🚘 Replacement Parts
These components and accessories for cars aren't from the original manufacturer. Shoppers buy these when something on their vehicle, motorcycle, or truck breaks or wears out.
🚘
Performance Parts
Performance parts are add-ons that enhance vehicle performance. This category includes products like turbochargers, performance exhaust systems, and high-performance brakes.
🚘
Cosmetic Parts
Aesthetic aftermarket parts are more about style than function. This category includes window tint, stereo systems, custom wheels, and seat covers.
🚘
Specialty Parts
If you sell aftermarket parts for a specific type of motorcycle or classic car, they would fall under this category.
Of course, the auto market is constantly changing, so keeping your ear to the ground for upcoming car trends is essential. Regularly attending automotive trade shows and other industry events will give you much-needed intel about up-and-coming product categories that could affect your business.
The Growth of Aftermarket Parts in the Automotive Industry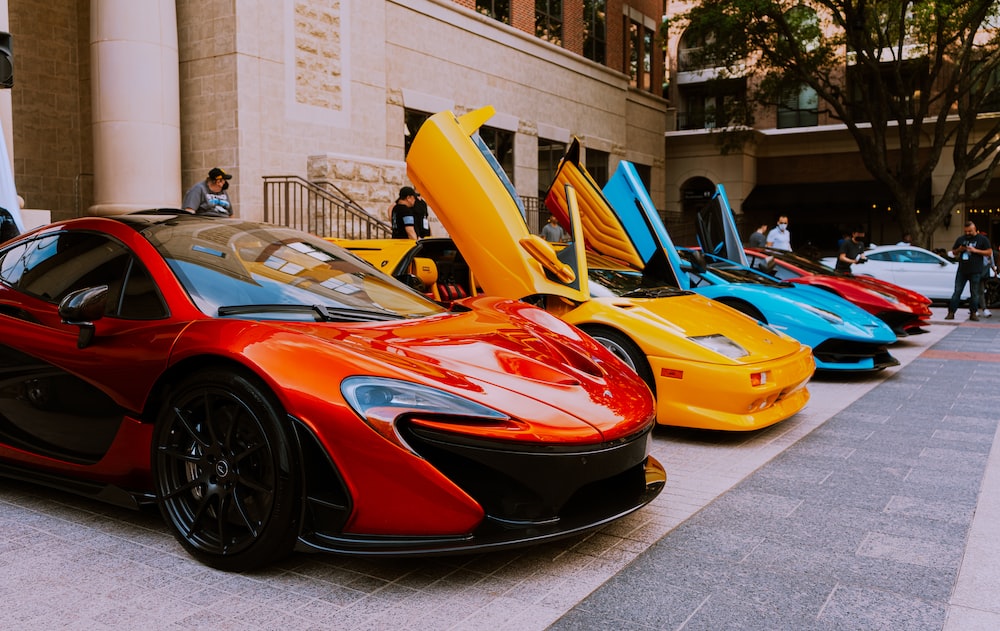 Aftermarket parts might be a niche within the larger automotive industry, but it's growing rapidly. The aftermarket parts industry was valued at $439 billion in 2022—a 40% increase over 2020.
DIY auto repairs are on the rise, contributing to more demand for aftermarket auto parts. In fact, eCommerce tools like Shopify and BigCommerce support aftermarket parts, so it's never been easier to sell parts to shoppers online.
Over 535,000 individual businesses serve the over 280 million vehicles registered across the country. That might sound like a lot of competition, but there's plenty of room for growth in the aftermarket auto parts market.
Boost Sales Generation With Spark Shipping Automation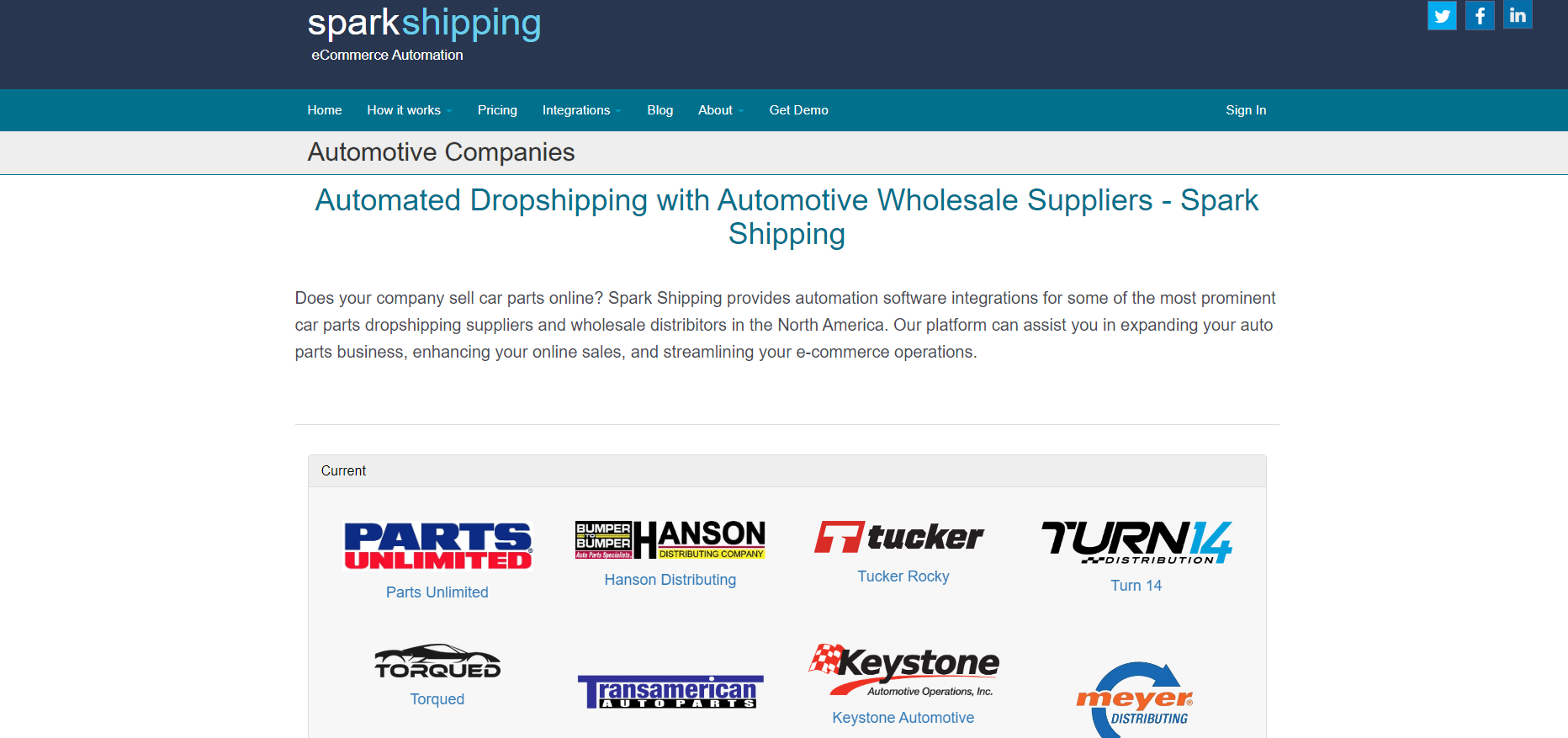 The aftermarket auto parts industry is booming, and it's set to grow even more. Attending these five automotive trade shows will help you stay on the bleeding edge of what's possible in this industry and streamline your workflows.
But that's just one piece of the puzzle. Aftermarket parts come with a lot of moving pieces, which is a lot for small retailers to handle. Go with Spark Shipping to save time and grow your eCommerce business.
Spark Shipping integrates with some of the most prominent auto parts wholesale distributors to streamline your online store. See the difference firsthand: Get a Spark Shipping demo now.