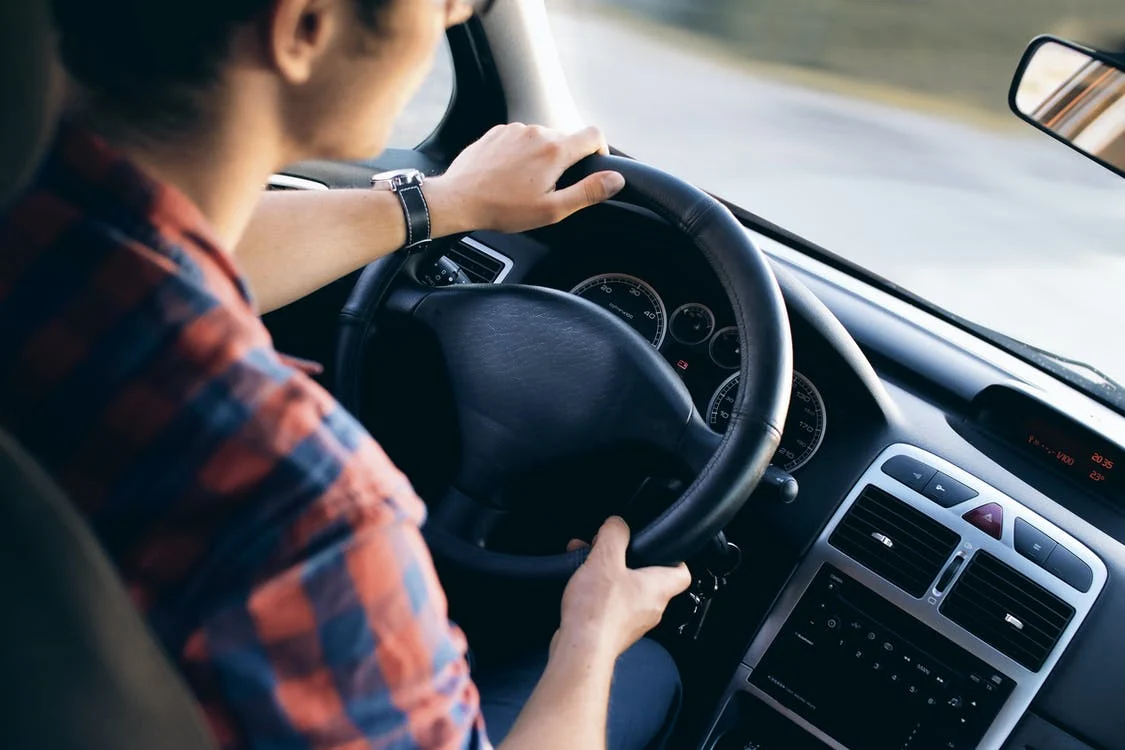 Do you run one of the 1 million+ Shopify stores online? Shopify is a solid platform for quickly setting up a shop and attracting buyers, but if you sell:
Aftermarket Auto parts

Powersports parts

Motorcycles accessories

Boat/marine parts
… and other similar products, you need to add fitment data to your Shopify store.
What is fitment data?
Fitment data is information on the year, make, and model (YMM) of a vehicle or machine. This can also include details on a vehicle's trim or engine. Fitment data is critical information that helps people find the best parts for their vehicle while they're shopping online.
Adding fitment data to your Shopify store will give you significant advantages, including:
A better shopper experience

Fewer returns

Better inventory management

Boost sales
Ready to start incorporating Shopify fitment data into your store? Try these six Shopify fitment apps to streamline Shopify year, make, and model data in your listings.
The 7 best Shopify fitment apps
Let's be honest: you don't have time to manually upload a new listing for every year, make, and model in Shopify. That would take you ages! Fortunately, these seven Shopify fitment apps help you speed up the process with automatic Shopify fitment integrations, data imports and exports, and more.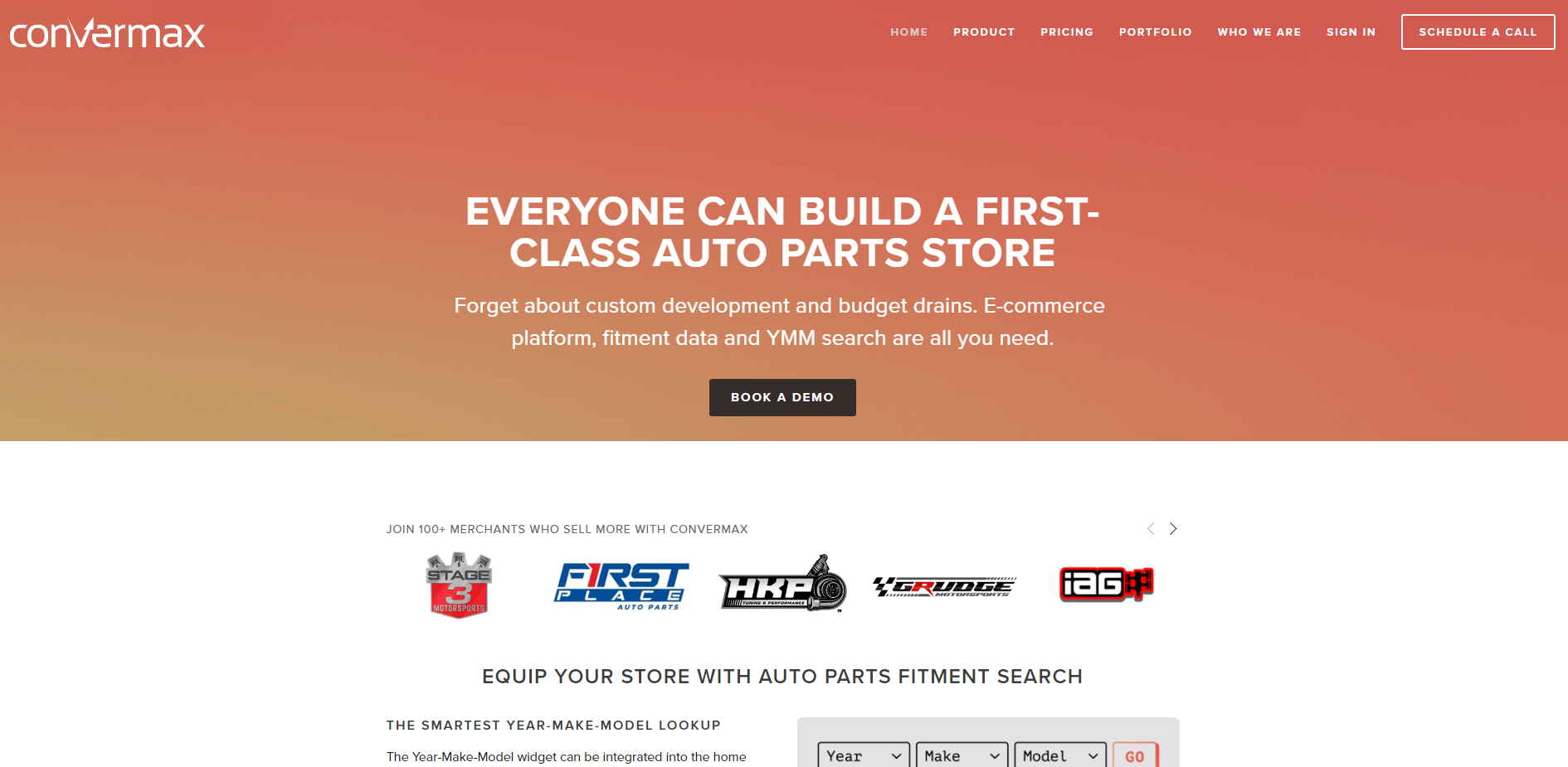 Shopify sellers rely on Convermax to automatically port in data from 100+ merchants to their eCommerce stores. This tool is helpful because it rolls multiple fitment tools into one, making it as simple as possible for shoppers to find the right products in your Shopify store.
Convermax includes helpful features like:
My Garage

Year-make-model lookup

Fitment verification widget

Fitment compatibility tables

Advanced filters
Plus, if merchants change their products or add new product lines, Convermax updates everything for you. Simply configure it once and it runs on autopilot from there.
Pricing ranges from $250 to $850 monthly, depending on how many users you have on your site per month. All packages include unlimited products, queries, and email support — although higher tiers give you access to premium phone support, too.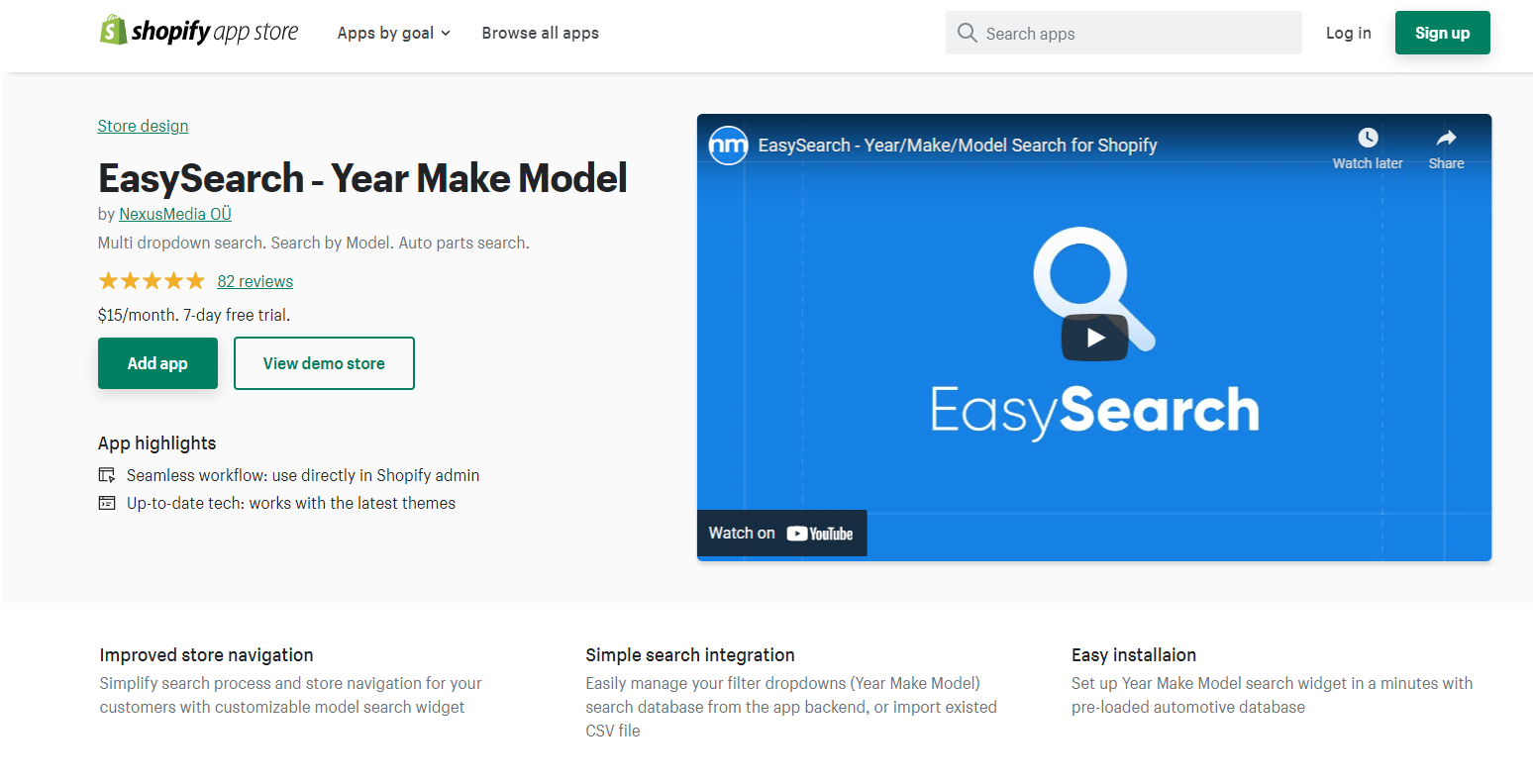 EasySearch is a Shopify-first fitment app that's a helpful addition for small or new ecommerce shops. EasySearch is compatible with the latest Shopify themes and you can even manage it directly from your Shopify admin dashboard, too.
EasySearch's biggest selling point is its low cost ($15/mo) and the fact that it comes pre-loaded with a database of automotive YMM data. Of course, if you don't want to use their database, you can always import a CSV of your own YMM data.
EasySearch is also completely customizable in terms of its function and feel. You can add search fields as needed, so if your shoppers need more or fewer fields, you can customize search fields according to what they need. EasySearch will also let you drop in your own CSS code, so this Shopify fitment app is incredibly versatile.
EasySearch includes helpful features like:
A customizable search widget for YMM data
A pre-loaded database
CSV file import
Fitment verification widget
Best of all, if you aren't totally sold on the app, it offers a free seven-day trial. But at $15/mo, it's a powerful, affordable fitment app that will streamline your online store with a few clicks.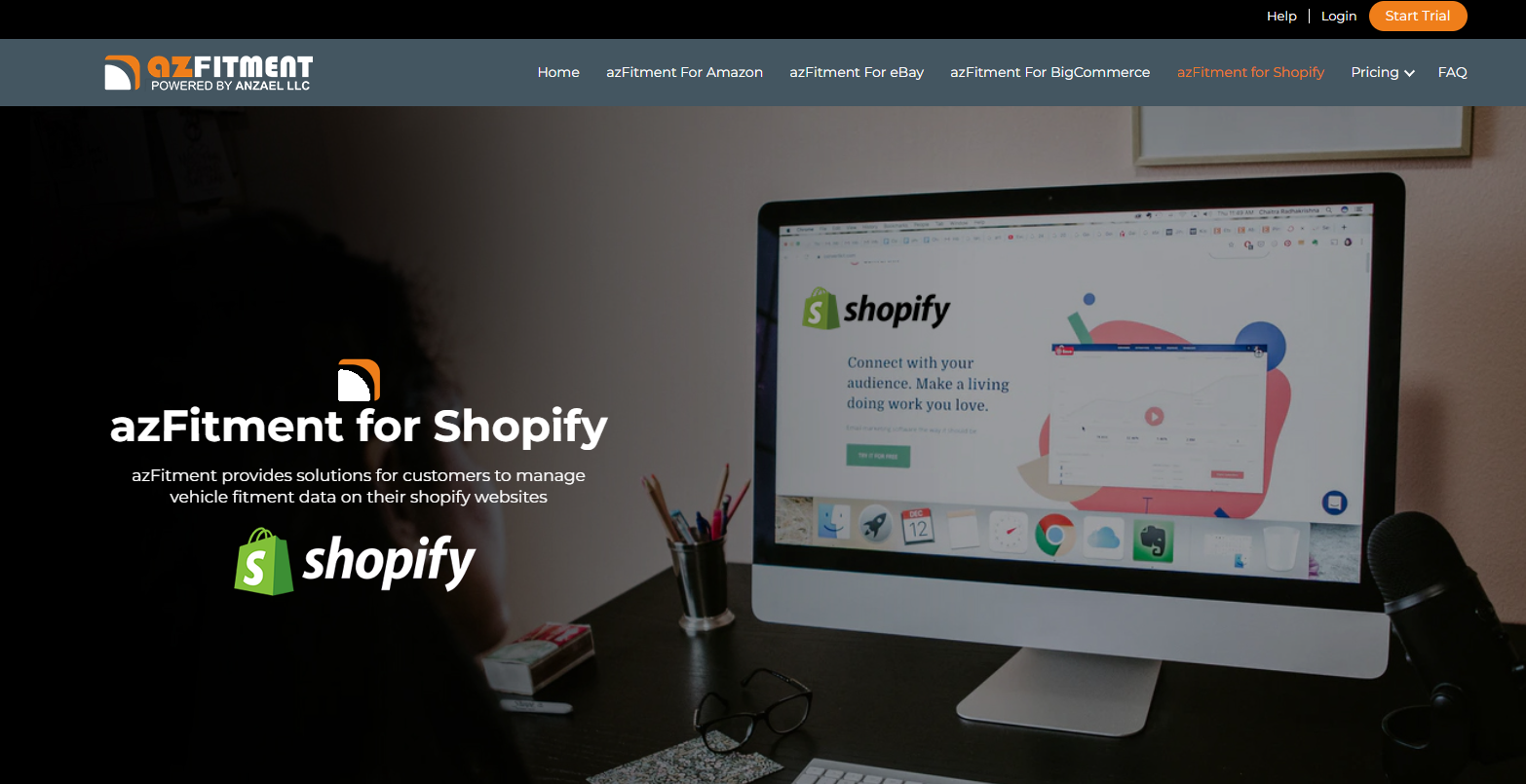 azFitment makes fitment tools for Shopify as well as Amazon, eBay, and BigCommerce. If you happen to sell through multiple eCommerce platforms, this app could help you keep everything in one place. It works by using an API that automatically brings Shopify fitment data into your store.
azFitment bills itself as a Shopify fitment app that customizes to each auto parts seller's needs. This does mean you'll have to contact them to get a quote. It might be more expensive, but if you want a high-end or bespoke setup azFitment might have more options for you.
azFitment claims to give its users results like:
20% boost in eCommerce conversions

50% less time managing data

Churn reduction by 81%
If you're stuck, it also offers a support team via email or live chat to make the most of your Shopify fitment data.
Built by ACU-Insight, VFitz is a Shopify fitment app that gives sellers access to a readymade database for year, make, model, and even trim data. With VFitz, shoppers can use the toolbar to search and filter by product type to find what they need.
This app allows you to completely customize the front-end of your Shopify fitment data with options for font size, colors, and more. It also has templates available if you need a little help setting up your Shopify store.
VFitz has a free plan that includes up to 50 products. That won't cover much, but it can be a helpful way to try before you buy. If you run a large store you'll likely need the Silver plan, which is $27.99/mo and has a 30,000 product limit.

PartsPal is a Shopify fitment app that gives you instant access to a robust fitment database. This app gives you access to 40+ attributes for each part, including year, make, model, submodel, engine, chassis, body type, trim, and much more.
With over 42 million catalog partners, PartsPal also includes 4,000 aftermarket parts and OE brands. It can even automatically match your products to parts in its catalog.
PartsPal also includes features like:
Adjustments: Add and change fitment information manually if needed. The platform accepts all major data file formats, too.

Smart search: Shoppers can use the Vehicle Selector to ensure fitment compatibility.

Confirmation: PartsPal confirms that fitment details match the shopper's search results.

Branding: PartsPal is compatible with most Shopify themes, so it can match your store's look and feel.
PartsPal does warn you that it requires "significant time investment up front," so be ready to spend a few hours setting up the system. It doesn't include truck or motorcycle parts either, so keep that in mind.
Pricing starts at $199/mo for up to $50,000 in sales and goes up to $999/mo for $200,000 - $500,000 in monthly sales volume.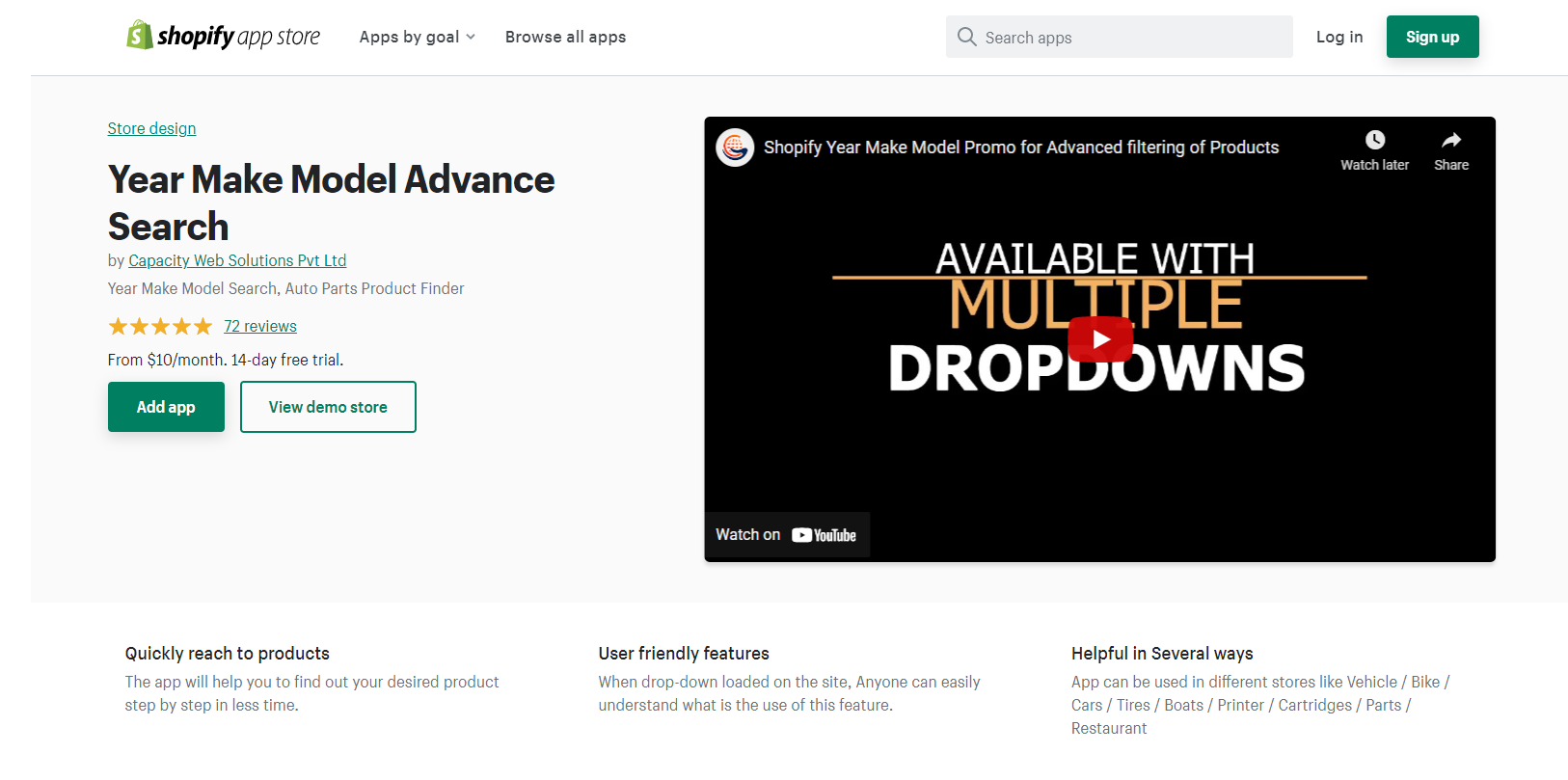 The Shopify Year Make Model Advance Search app starts at $10/month and comes with a 14-day free trial. It bills itself as an "auto parts product finder," but you can also use this app for products like:
Vehicle and truck accessories

Bike accessories

Tires

Boat accessories

Printers and ink cartridges
Basically, if you sell any products that require year, make, and model data to find the right product, this app will get you where you need to go.
It includes other useful features like:
An intuitive drop-down interface for shoppers

Import an existing CSV to manage your YMM records more quickly

Bulk Product Assign to do multiple product pages with one click

Export up to 100,000 products

Fitment Match, which confirms that the product details page matches the shopper's year make model lookup
Even if you have a super-complicated database, Year Make Model Advance Search is a helpful Shopify app that will make it much easier for you to boost your bottom line with fewer headaches.

Built by GoVedia, Automotive Part Search is an effective Shopify fitment app for year make model searches. Like the other fitment apps on this list, it includes features like:
However, Automotive Part Search also includes new and advanced features too. You can customize the look and feel of your store — including a custom search bar — using CSS and HTML to adjust the code. It can even integrate with your existing Shopify theme.
If you have repeat customers, Automotive Part Search provides a My Garage account feature, where shoppers can save their vehicle details for future purchases.
Pricing starts at $49/mo, although you may need to pay more if you want hands-on help or customization. Automotive Part Search also offers a 14-day free trial.
Smarter Shopify fitment with Spark Shipping
While these Shopify fitment apps can get you down the road, they don't always have the firepower you need to run a professional-level Shopify auto parts store.
These Shopify fitment apps are pretty good, but they have limitations that cause them to fall short, such as:
Data formatting: Data formatting alone will cause countless errors, giving both you and your shoppers a poor experience.

Integrations: Most eCommerce platforms don't offer fitment data out of the box, which means you have to cobble together a solution with third-party Shopify apps that don't always play nice together.

Limited catalogs: Some Shopify apps offer fitment catalog data, but these catalogs aren't always up to date. That means you pay for an app that isn't doing its job.
Bottom line, these apps don't always work the way they should.
That's where Spark Shipping comes in: it isn't a replacement for the Shopify fitment apps you love, but it's an essential tool that helps your business run more efficiently. Spark Shipping complements your Shopify apps by ensuring your store actually has the right inventory in stock. Your fitment app is pretty much useless if you don't have the products customers want to buy, so this is an essential function to give everyone a better experience.
Spark Shipping gives fitment functionality for Shopify stores that sell parts for RVs, boats, machinery, motorcycles, and vehicles. We take raw fitment data from your vendors and port it over to your eCommerce website in real-time.
Spark Shipping downloads your vendors' latest catalogs automatically, formatting the data in real-time so your Shopify fitment apps work how they're supposed to. We pull the data from your vendor's API, which allows shoppers to search for the exact products they want. Spark Shipping can pull fitment data and automatically add it to your product descriptions — the platform even populates meta fields with fitment data.
Our solution also includes helpful features like:
Export fitment data in any format

List and sell thousands of parts without entering a single SKU

Compatible with all fitment data plugins on Shopify

Synchronize with data from multiple vendors

Friendly and knowledgeable technical support team

Source the lowest-price products from multiple distributors
Spark Shipping is a seriously simple way to integrate fitment data into your Shopify store in minutes. Stop worrying about SKU updates, inventory lists, or accuracy. Check out Spark Shipping's plans now to simplify Shopify fitment data and build an eCommerce store both you and your shoppers will love.