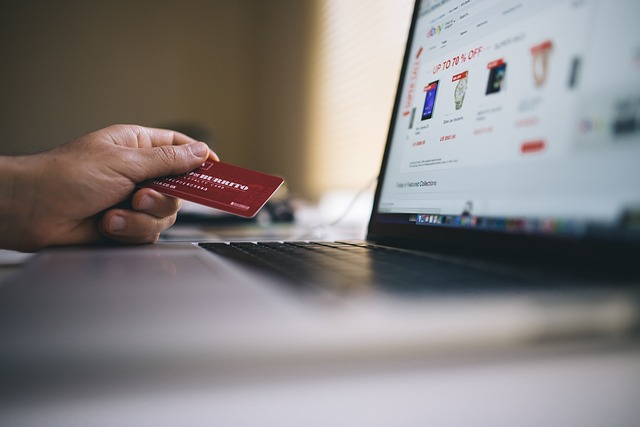 As a dropshipper, you act as the middleman between your trading partners and customers. It's simple enough to manage orders when your business is still small, but as you grow, you'll need a way to deal with the tsunami of data that comes with running a dropshipping business.
Instead of managing everything yourself — or hiring more employees — you can use electronic data interchange (EDI) to automate everything. EDI allows you to integrate with your suppliers' systems and exchange information automatically. No calls, no emails, no texts: just results.
If you're a dropshipper, you'll see certain EDI documents more often than others.
EDI 846 is the most-exchanged EDI document type in drop shipping, so here's everything you need to know about EDI 846 Inventory Inquiry Advice.
What Is EDI 846 Inventory Information?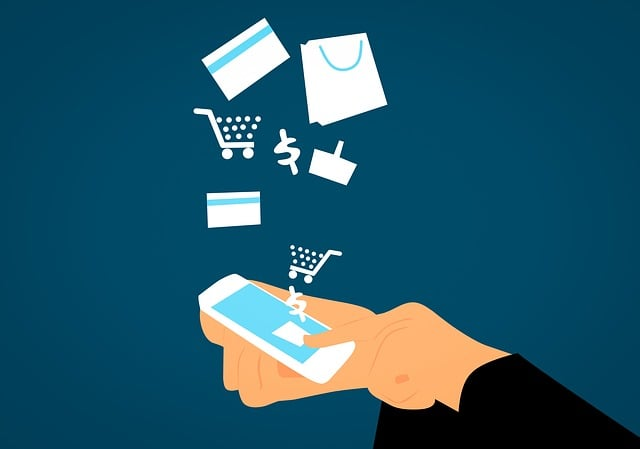 EDI 846 is the most common EDI document exchanged by e-commerce site owners and their trading partners. The EDI document is an electronic version of paper inventory updates that suppliers and dropshippers once had to fax or email to each other every day.
While most EDI documents are used only by one party, EDI 846 is unique because both suppliers and dropshippers can use it.
Dropshippers submit an EDI 846 to ask their suppliers about available inventory levels.
Suppliers send EDI 846 to provide inventory information to dropshippers on how many units they have available right now and how many they'll have in the future.
What Are the Components of EDI 846?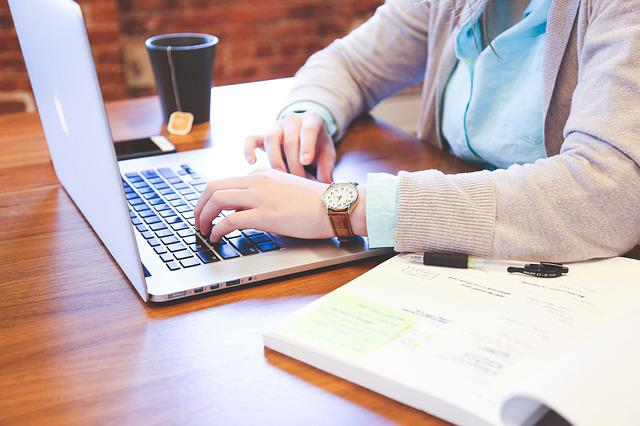 The exact composition of an EDI 846 will differ depending on the dropshipper and supplier, but they usually include these data points:
Date and time

Retailer ID number

SKU or UPC

Part description

Inventory location

Seller's location

Product units

Discontinued products

Item descriptions

Backorder quantities

Committed quantities

Restock dates
How Is EDI 846 Used in Drop Shipping?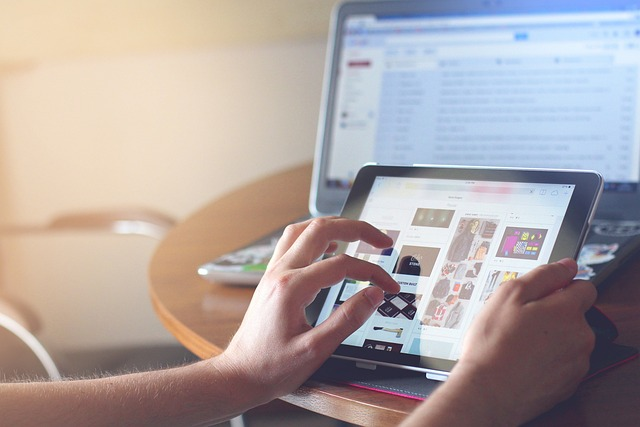 You have complete control over your eCommerce website, but you need to know how many products your supplier has in stock. Without this information, you risk selling out-of-stock products — and that's terrible customer service.
With solutions like Spark Shipping, you can automatically feed supplier inventory information from your EDI 846 to your eCommerce website. This way, shoppers always see accurate inventory information. Because inventory changes by the hour, it's common for dropshippers to request this information from suppliers multiple times a day.
If you receive an EDI 846 from a supplier, they're letting you know about their product availability. Not only will you see inventory levels, but also which products are out of stock or discontinued.
Many EDI 846 documents will also tell you about future product availability. If you know that your supplier will be low on stock in two months, that gives you enough time to find a backup supplier.
Benefits of EDI 846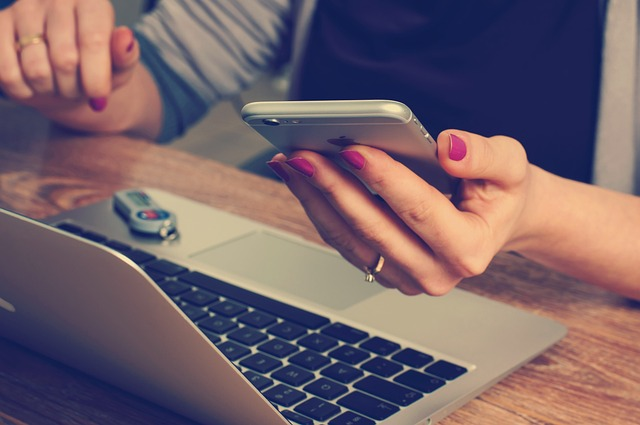 The biggest benefit of using EDI 846 is that it automates setting your stock levels. There's no need to call or email your suppliers multiple times a day asking them to provide inventory information.
But EDI 846 also has three other major benefits for dropshippers.
1. Increase Accuracy
You don't want to sell products that are out of stock, as it will tick off customers and cost you more sales. Ensure that the inventory numbers on your website are as accurate as possible, by feeding EDI 846 data into your eCommerce store to provide accurate information with zero errors.
2. Improve Customer Satisfaction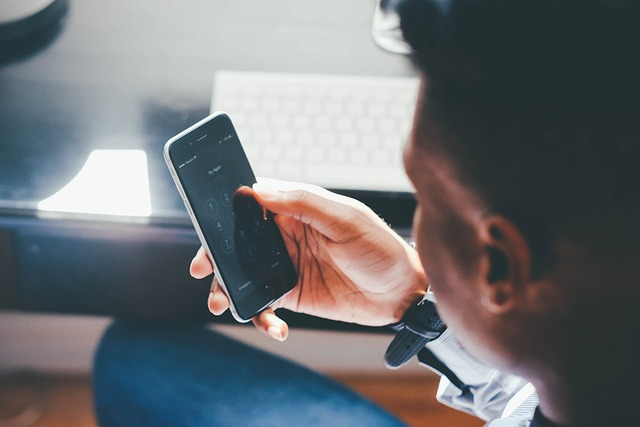 Shoppers can buy your products from other sellers, so you need a competitive advantage. Fortunately, EDI 846 ensures customers have the best experience possible, which increases shopper loyalty.
3. Run a Better Business
As a dropshipper, you want to know about potential stock issues as soon as possible. Good suppliers will warn you about potential inventory shortages months in advance through an EDI 846.
If you use a solution like Spark Shipping, you can route your POs to the cheapest in-stock supplier for every order, which helps you simultaneously reduce costs and orders for out-of-stock products.
EDI 846 Example
EDI documents are designed for machines, not people. When you look at an EDI 846 document, you're looking at raw data that won't make a lot of sense. With EDI solutions like Spark Shipping, you can translate and map all this data, so there's no need to translate it yourself.
If you've never seen an EDI 846 before, here's an example: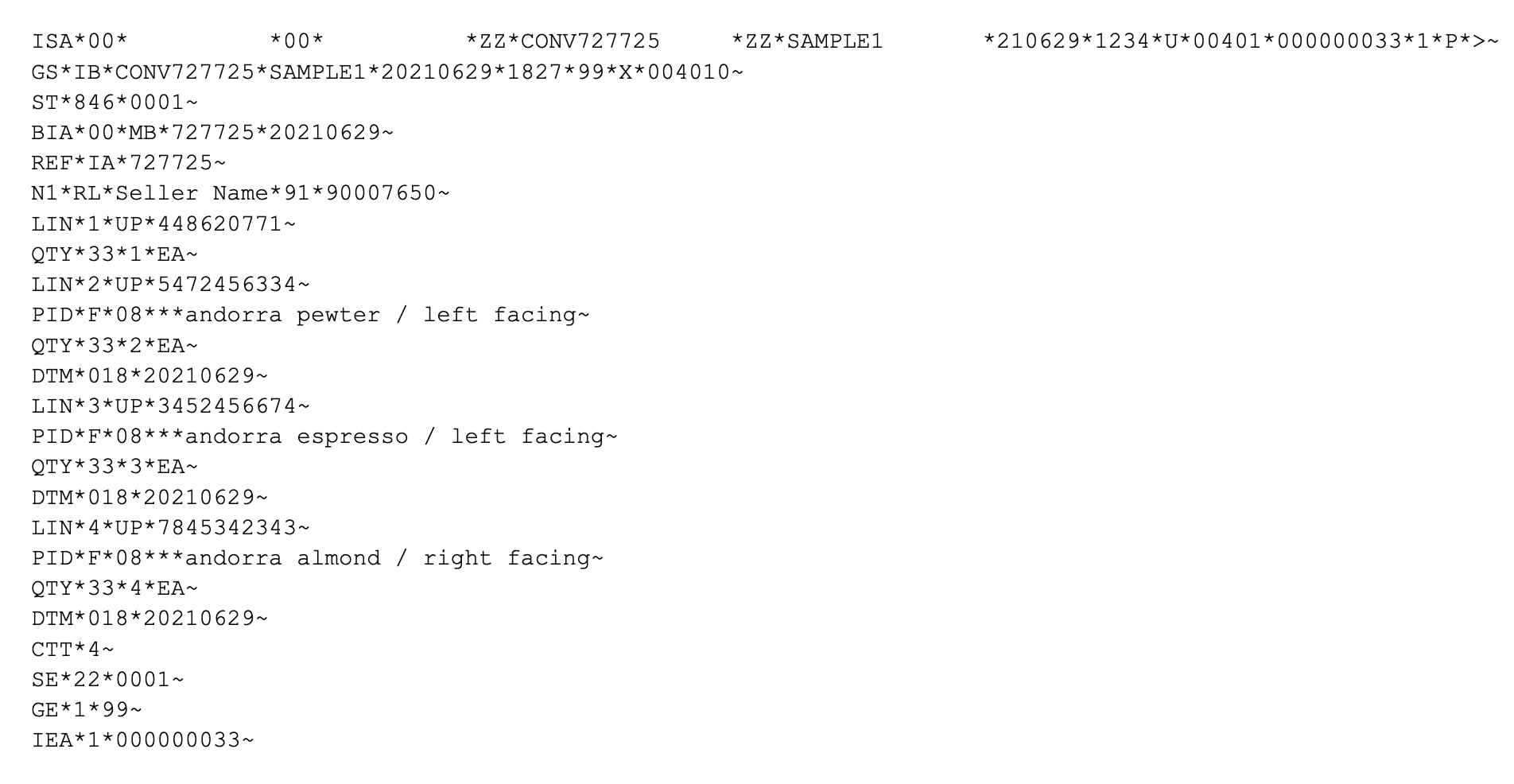 How Spark Shipping Helps With EDI 846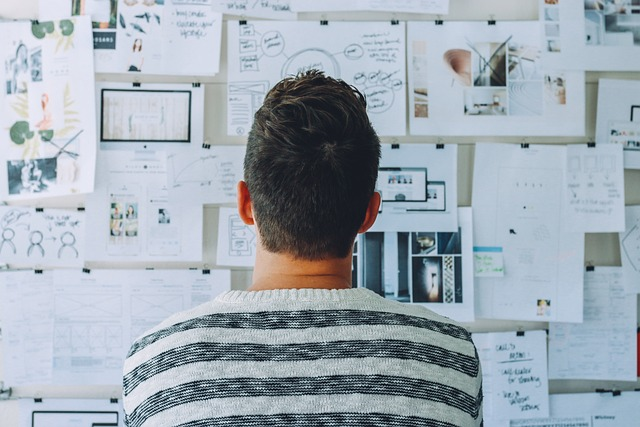 You'll need to exchange data with your suppliers multiple times a day to give your customers the best experience possible. That's a lot to deal with manually, but EDI makes it possible to automatically pull inventory levels into your eCommerce store.
It would normally take some work to set up EDI, but Spark Shipping handles everything for dropshippers. We implement and automate EDI for eCommerce dropshippers so the data exchange happens seamlessly. See the difference for yourself: Get a Spark Shipping demo now