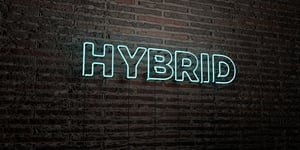 When eCommerce retailers are getting started, many make the decision whether they should dropship or stock their own inventory. Retailers often approach this as a binary, A or B type decision - "Should I dropship products or stock physical inventory?"

One of the best-kept secrets in eCommerce is that you do not have to pick! This is known as - hybrid dropshipping

Hybrid Dropshipping is when eCommerce retailers stock their own products while simultaneously selling the products directly from external vendors. Retailers stocking their own inventory are when products are shipped from a retailer's local office/warehouse. This also includes products that are shipped via 3rd party logistics company (3PL). Dropshipping is when orders are directly shipped from a manufacturer, distributor or other 3rd parties where you purchase the products on demand per order.

Hybrid dropshipping is a way of keeping 'layers' of inventory. It enables retailers to sell products from their own local inventory then when an SKU goes out of stock locally the orders are placed directly with the manufacturer or a distributor. This enables eCommerce retailers to keep products in stock more often than any of the competition.
Large Retailers
Large retailers are almost always using the hybrid approach to dropshipping. Big retailers often say they are shipping from one of their 'warehouses'. Behind the scenes the warehouse may be one of their physical locations, a 3rd party logistics company (3PL), one of many distributors that stock the product or directly from the product's manufacturer. Each of these could be considered their 'warehouse'. That is one of the reasons that large retailers have items in stock when smaller retailers do not. Larger retailers are using the hybrid approach for products in both their own warehouse while simultaneously searching in external warehouses.
How does this help a small retailer?
As a small retailer, knowing this insider secret give you an edge over others in your competition.
For Retailers That Exclusively Dropship
Keeping a local supply of products will allow you to have greater control over your shipping rates and methods which you offer your customers. You'll no longer have to pay the 'dropship fee' or other shipping charges on each order that many dropship vendors include. Also, you can offer higher margin shipping methods (ex. Overnight shipping) that many dropship vendors are not able to offer.
Consider keeping a supply of your best selling products at your local office or warehouse. If you're selling on a marketplace such as Amazon or eBay, when your dropshipping competitors sell out but you'll be the only retailer left, you'll win the buy box!
For Retailers That Exclusively Stock Inventory
Consider dropshipping some of your less popular products directly from distributors and manufacturers.
If you're now selling on a marketplace such as Amazon & eBay or even your own site since you're hybrid dropshipping less popular products you'll have access to vastly more products.
For example, if you're an auto parts retailer, there's a good chance you do not want to stock older or obscure automotive parts. Now you can dropship these parts direct from the distributor or manufacturer while still selling other popular, high margin items from your own warehouse.
Another huge perk of the hybrid dropshipping method is you're able to sell your high margin items from your own warehouse but able to dropship less popular products at a lower margin. Even when increasing low margin sales you'll be increasing your top line with each vendor. When your top line spending with a vendor increases you can approach that vendor and have more leverage to negotiate a better pricing tier. The improved pricing tier will allow you then have better margins on all your sales.
How do I implement hybrid dropshipping in my business?
To get started, you'll need to get up to date inventory quantities from all of your vendors. This includes inventory quantities from your own warehouse(s) and any 3PLs that you have products stored as well as external distributors and manufacturers. If you're looking for additional dropship vendors check out the list of dropship suppliers & companies.
You'll need an automated system, that can pull in inventory quantities from multiple vendors for a single product, sum those inventory quantities and push the total inventory quantity to your shopping carts/selling channels.
You'll also want to be sure the reverse is true for order fulfillment. When sending orders to vendors, you'll need your automation system to send orders to only the vendor who has the products in stock. It's also recommended that your automation system is able to collect unit cost data from various vendors. Having this data will allow you to route orders to the vendor with the product in stock at the lowest unit cost. If there are multiple vendors for a single product, you can then route orders to the lowest cost distributor!
If you want to implement a system such as this your business, check out a demo of Spark Shipping today!